---
DATA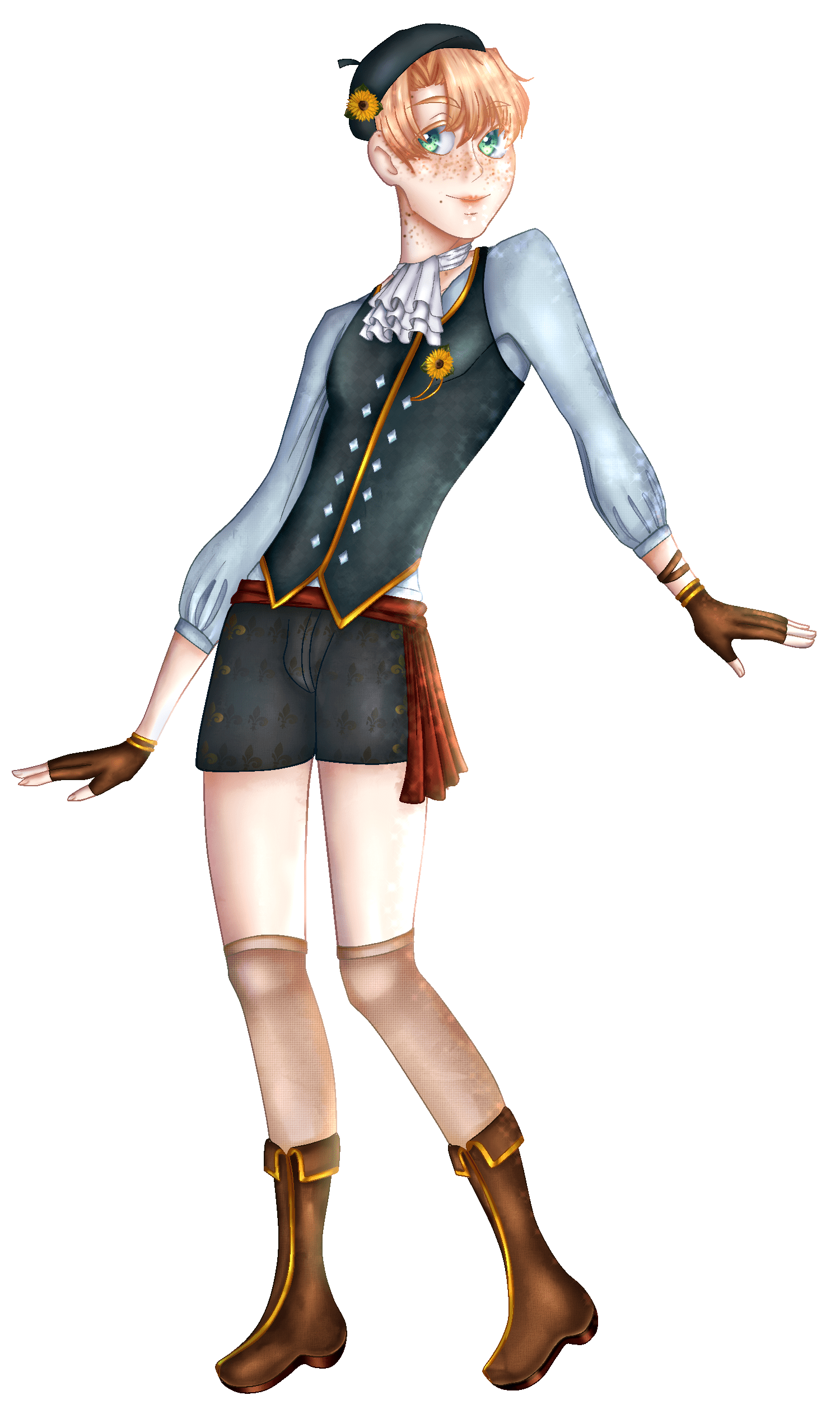 𝖔𝖗𝖎𝖌𝖎𝖓𝖆𝖑 𝖓𝖆𝖒𝖊 : 𝕶𝖎𝖎𝖗𝖔 𝕯𝖆𝖛𝖑𝖊𝖚𝖗


𝖌𝖊𝖓𝖉𝖊𝖗 : 𝖒𝖆𝖘𝖈𝖚𝖑𝖎𝖓𝖊


𝖆𝖌𝖊 : 13


𝖍𝖊𝖎𝖌𝖍𝖙 : 1'64 𝖒


𝖜𝖊𝖎𝖌𝖍𝖙 : 47 𝖐𝖌


𝖎𝖙𝖊𝖒 : 𝖘𝖚𝖓𝖋𝖑𝖔𝖜𝖊𝖗


𝖗𝖊𝖑𝖊𝖆𝖘𝖊 𝖉𝖆𝖙𝖊 : 𝕬𝖚𝖌𝖚𝖘𝖙 17𝖙𝖍, 2013


𝖑𝖎𝖐𝖊𝖘: 𝖇𝖆𝖑𝖑𝖊𝖙, 𝖕𝖆𝖎𝖓𝖙𝖎𝖓𝖌 𝖆𝖓𝖉 𝖌𝖆𝖗𝖉𝖊𝖓𝖎𝖓𝖌


𝖉𝖎𝖘𝖑𝖎𝖐𝖊𝖘 : 𝖙𝖍𝖊 𝖋𝖊𝖆𝖗 𝖔𝖋 𝖇𝖊𝖎𝖓𝖌 𝖍𝖚𝖗𝖙
CHARACTER



In his backstory, he is a human jewish child who was kidnapped and placed under a spell so that he could protect and accompany Freesia's soul, a spell that breaks the day of the final judgment, the armageddon.

He can be described as a chaotic good person. He will always feel the duty of protecting and caring for his friends and taking actions that can provide beneficial results. However, he can perform these actions in a somewhat unconscious or not well prepared way, his plans are quite disorganized which eventually lead to failure. He is also a very sensitive and nervous boy, who will instantly trust anyone and be greatly hurt if he becomes betrayed, that makes his docility and naivety noted. His mood is very active and cheerful and he likes to give people compliments. He is considered an artistic, creative and talented boy dedicated to ballet, music, singing, gardening, painting and theater.

Hibiki Lui could be considered as its VOCALOID counterpart. because Kiiro was canceled a long period before being officially released.


RELATIONSHIPS

𝙁𝙧𝙚𝙚𝙨𝙞𝙖 𝘼𝙡𝙗𝙖: 𝘉𝘦𝘴𝘵 𝘧𝘳𝘪𝘦𝘯𝘥 𝘢𝘯𝘥 𝘤𝘰𝘮𝘱𝘢𝘯𝘪𝘰𝘯


𝘼𝙯𝙪𝙧𝙪 𝙍𝙖𝙞𝙣𝙚: 𝘎𝘶𝘢𝘳𝘥𝘪𝘢𝘯 𝘢𝘯𝘨𝘦𝘭


𝙏𝙖𝙝𝙚𝙠𝙞 𝙈𝙤: 𝘎𝘰𝘰𝘥 𝘤𝘰𝘶𝘯𝘴𝘦𝘭𝘰𝘳


𝙃𝙖𝙣𝙖 𝙍𝙖𝙙𝙚𝙢𝙖𝙘𝙝𝙚𝙧: 𝘏𝘦 𝘱𝘰𝘴𝘴𝘪𝘣𝘭𝘺 𝘩𝘢𝘴 𝘢 𝘮𝘪𝘯𝘪-𝘤𝘳𝘶𝘴𝘩 𝘧𝘰𝘳 𝘩𝘦𝘳
VOICE



His configuration uses Haruno Sora's voicebanks.

KIND: A young male voice with a soft and elegant tone. He can sound very smooth and also can easily produce a warm sound. He can sing Opera and ballads.

STRONG: A young male voice with a fresh and sharp pronunciation. It's a tense and energetic vocal that can sound "overpowered". He can sing Rock and Folk.
download

original : カンタレラ by Kurousa-P


vsqx : andyfined - p

MULTIMEDIA